Post by SKR on Jul 25, 2008 15:36:28 GMT -7
I was thinking of a way to give away some of the prizes that have been donated to the Fall Nat's and have come up with this. Kdog did a great job and got us all talking smack about our favorite and or least favorite car mfg's at the S/S Nat's in St. Louis. Let's change it up a bit for the Fall Nat's.
Have you guys ever watched that show "Pass Time" on speed channel? It's where they bring a car up to the line and the owner talks a little about his set up and the contestants guess what the car will do on a 1/4 mile pass. The guy who guesses the closest time wins.
I'm going to do something like that on the forum for the guys that are entered for the Fall Nationals. I'll start off with a stock A/W. Have everyone guess what it'll run for a Elapsed Time then award points to the closest guess. I'll then add a hop up part (braids, wheelie bars etc....) then have everybody guess on what the new E/T will be. I'll keep a running points total for each person each time there is a new pass. When I'm done I'll give the car away to the person that has the most points. Should be fun and will serve as a dual purpose thread for a "How To" on building a car to run at the Fall Nat's.
There will be a total of 6-8 passes. Points will be awarded as follows
1st 10 pts.
2nd 9 pts
3rd 8 pts
4th 7 pts
5th 6 pts
6th 5 pts
7th 4 pts
8th 3 pts
9th 2 pts
10th thru last 1 point each.
One guess per person each time there is a new pass. I'll give at least 4 days in advance before a new pass is run to give you all enough time to pick a E/T.
If you haven't entered the race yet and want to play, go ahead and guess. If the top points winner at the end of the contest has not entered the Fall Nat's then the car will go to the highest points winner that is entered in the Fall Nat's. There will also be prizes given out to a Fall Nat's participant that has had the closest guess for each pass.
First pass prize is a Model Motoring Willys body donated by Kdog racing.
Here is the first set up. A stock Auto World Ultra G. This will be ran straight out of the box with no modifications. There is a 57 Studebaker body on the car now. The body will change on a later pass. This car will either end up as a Rat Rod or a F/C. I'll build this chassis up into both configurations (Rat Rod & F/C) to help out those that might be new to NTRA Drag Racing.
Have your first pass time guess in by Friday 08/01/2008.
Hope you guys enjoy this contest. Have fun with it and good luck!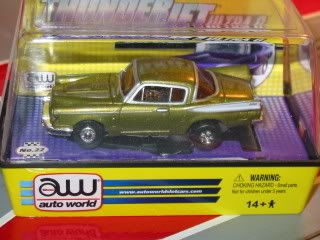 Psycho Slots Dragway Track Specs:
16' Timed section
Rail height .013
Routed MDF board
Floor enamel painted surface sanded smooth
2 - 12 volt industrial deep cycle batteries
Trackmate timing system
Round rail. The rail itself is .062 in diameter. From the edge of the slot to the rail is 7/32"
Let the games begin!!!!!!!!!
In the event of a tie with the same E/T. The winner of the tie will be the Racer who put his time up first. This happend with Ragu and Tbolt in week one.
Updated points 09/09/08

----Racer-----------Points-------------

1. Randtek--------------6/9/2/9/9/6/8/ total 49
2. Nightrider------------10/1/8/6/4/9/7/ total 45
3. Allstar----------------2/4/10/10/3/10/5/ total 44
4. Ragu-----------------9/8/5/4/6/7/3/ total 42
5. Demon340------------5/5/3/8/5/5/10/ total 41
6. Rapid Richard---------7/6/6/3/8/4/4/ total 38
6. HOchallanged----------1/7/1/7/10/3/9/ total 38
7. 440GTX---------------3/3/7/2/7/2/6/ total 30
8. Olroy-----------------4/2/4/5/0/8/0/ total 23
9. Kdog-----------------0/10/0/0/0/0/0/ total 10
10. Nitro-------------------0/0/9/0/0/0/0/ total 9
11. Tbolt-----------------8/0/0/0/0/0/0/ total 8

Car Results
| | | | | |
| --- | --- | --- | --- | --- |
| Setup Changes | Time | MPH | % Increase | Total % Increase |
[/b][/tr]
[tr][td]Stock car, out of box[/td][td]1.534[/td][td]7.48[/td][td]-[/td][td]-[/td][/tr]
[tr][td]Braids added to pickup shoes[/td][td]1.2946[/td][td]9.44[/td][td]15.61[/td][td]15.61[/td][/tr]
[tr][td]Adding another traction magnet, increase brush tension[/td][td]0.7798[/td][td]18.48[/td][td]39.77[/td][td]49.17[/td][/tr]
[tr][td]Tension added to pickup shoes, Wheelie bar added[/td][td]0.7588[/td][td]19.27[/td][td]2.69[/td][td]50.53[/td][/tr]
[tr][td]Taller tires, shim the motor magnets, balance/air gap the armature[/td][td]0.6893[/td][td]19.71[/td][td]9.16[/td][td]55.07[/td][/tr]
[tr][td]Mean Green Aramature, silicone foam rear wheels and tires[/td][td]0.5471[/td][td]26.53[/td][td]20.63[/td][td]64.34[/td][/tr]
[tr][td]Balance armature, solder on a set of shunts, add a set of silver motor brushes[/td][td]0.4968
[/td][td]29.75[/td][td]9.19[/td][td]67.61
[/td][/tr]
[/table][/center]